Sunburn Treatment and Prevention
It is always nice to have fun under the sun. The warmth touches your skin as you go about your day on the beach or walking in the park. But you run the risk of getting sunburn when spending too much time exposed to the sun without proper protection.
You may think that sunburn is an annoying consequence of spending too much time outside. While the pain can subside in a few days, sunburn can have lasting effects on your skin.
Who Has the Highest Risk for Sunburn?
Some people have a higher risk of developing sunburn. That includes those who:
Have very fair skin.
Exposed skin to the sun during the day, especially in the afternoon when the sun is at its hottest.
Do not wear enough sunscreen protection or proper clothing.
The first signs of sunburn can appear in as little as 11 minutes of constant exposure to the sun. Your skin will turn red a few hours afterward. The injury will continue to develop in the next two to three days before it starts to heal.
Symptoms of Sunburn
The symptoms of sunburn can vary from person to person and depend on the severity. That includes:
Red and painful skin
Swelling in the affected area
Warm to the touch
Blisters
Drying and peeling of skin after a few days to a week
In severe cases, symptoms can include: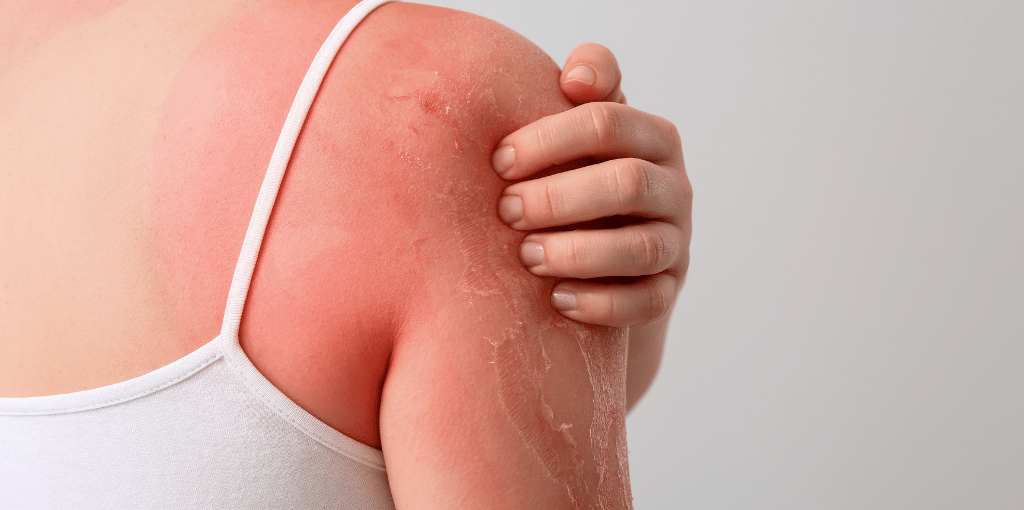 Treating Sunburn
Most of the time, you can treat sunburn at home. Start treating it as soon as you notice the burn developing on your skin. Get out from under the sun immediately and get indoors.
Once inside, take a cool bath to relieve the pain. Gently pat yourself dry to leave a bit of water on the skin. Apply moisturizer to the affected area to keep the water in the skin, which can help with dryness.
Use a moisturizer that contains aloe vera or soy. These products have properties to help soothe the pain. You can also use a hydrocortisone cream, which is available over the counter if you feel uncomfortable. Moreover, ibuprofen or acetaminophen can help with the pain.
The immediate treatments focus more on addressing the discomfort and pain. Sunburn will often heal itself within days or weeks. While healing, try to stay out of the sun. Exposing the affected area can worsen the burn.
Preventing Sunburn
The best way to prevent sunburn is to wear protective clothing and sunscreen.
Protective clothing uses dense materials like wool, canvas, and polyester since they are good at blocking UV rays. Sports apparel usually offers these, especially for running and swimming.
Clothing does not cover every inch of your skin, though. Applying sunscreen with SPF 30 or higher is a good start. Make sure they are waterproof, so they do not wash away from your sweat or when you swim.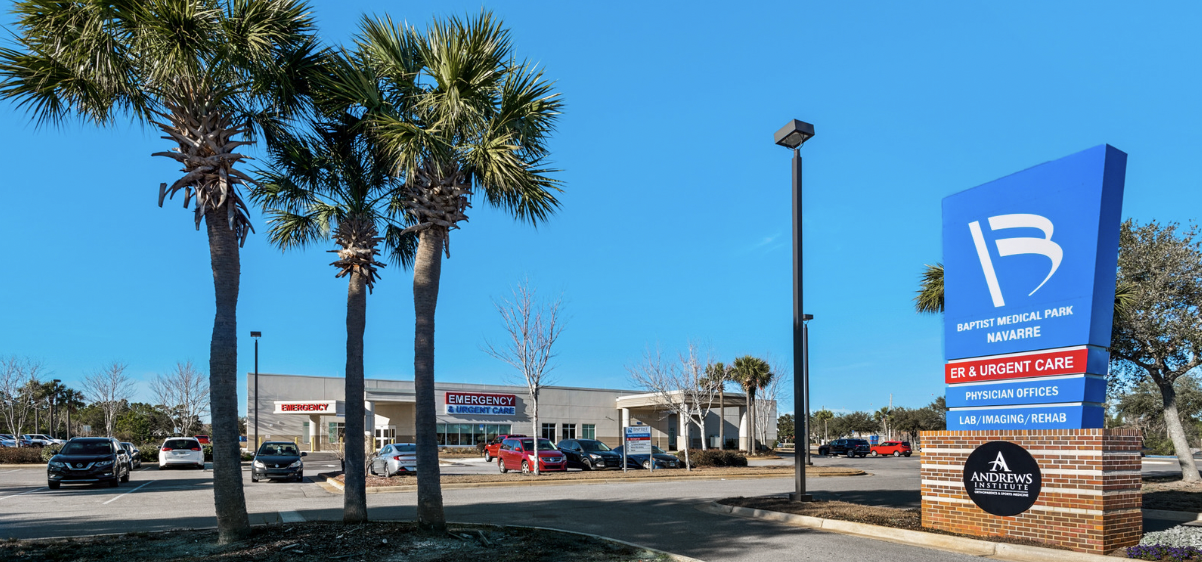 Get Immediate Treatment at Baptist Emergency Room & Urgent Care
Sunburns are considered second-degree burns that affects the epidermis and dermis layers. Home remedies are usually enough to treat this.
However, you should seek immediate treatment if you have blisters that popped. That is a potential cause of infection. A doctor will be able to help deter infection with medication.
You should also seek emergency care if you experience severe symptoms like vomiting or dizziness.
Baptist Emergency Room & Urgent Care's emergency room is open 24/7, and urgent care is available from 7 a.m. to 9 p.m. every day. Appointments are unnecessary - walk in, and our healthcare professionals are ready to help. Baptist Emergency Room & Urgent Care - Navarre is located at 8888 Navarre Pkwy., Navarre, FL 32566. Call the center at 850-750-5698.
Baptist Emergency Room & Urgent Care in Navarre is comprised of board-certified ER-trained physicians and professionally trained ER nurses that deliver quality medical care. Our urgent care and emergency room in Navarre can provide effective treatment for a wide range of medical conditions. From fever to fractures, allergies to abdominal pain, and colds to concussions, we have you covered with on-site labs, CT, X-rays, and ultrasound.