Sprained Ankle: Diagnosis and Treatment
Four different ligaments stabilize the ankle. When the ligaments are torn or stretched, an ankle sprain occurs. Ankle sprain injuries range from mild to severe, and various treatment options are available depending on the sprain grade.
A first-grade sprain will have minimal swelling, while a second-grade sprain will cause the ankle to become slightly unstable. A third-grade ankle sprain causes intense pain and severe swelling.
Sprained Ankle Symptoms
All grades of ankle sprains have mostly the same symptoms. The pain factor is more intense in higher-grade sprains. The most common sprained ankle symptoms include the following:
Tenderness when pressing down on the ankle joint
Mild to severe swelling around the ankle joint
Ankle weakness and instability
Bruising
Mild to severe pain
Stiffness and difficulty rotating the ankle joint
If a person twists or rolls their ankle and they experience severe pain when touching the ankle, they may have an ankle fracture.
Causes of a Sprained Ankle
Sprained ankles have several causes. A person can walk down the street and roll their ankle on an uneven surface. An athlete can twist their ankle while practicing. A hiker can tear ligaments in their ankle if they extend it in an unnatural direction while walking up a steep hill.
Studies have shown that women over 30 are more prone to ankle sprains compared to men of the same age. However, young male athletes between 15 and 24 years of age have a higher incidence of ankle sprains compared to female athletes of the same age. Other risk factors for sprained ankles include excess weight, ligament fatigue, and poor athletic conditioning.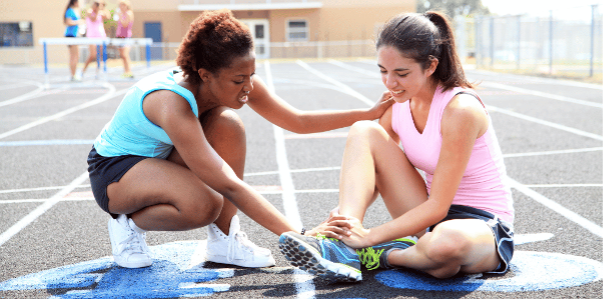 Diagnosing a Sprained Ankle
A physical exam is necessary to diagnose a sprained ankle. This exam may be painful, especially when the sprain is a grade-three injury. A doctor will check for torn and stretched ligaments and request MRI scans and X-rays to check for fractures or joint damage.
Treating a Sprained Ankle
The R.E.S.T treatment method may be effective for a grade one sprained ankle. Over-the-counter pain relievers can help manage the pain, and a brace may help to keep weight off the injured ankle. Grade three ankle sprains may require a cast and crutches.
Treating a sprained ankle may also include surgery if the ligaments don't heal or if the ankle remains unstable after months of physical therapy.
Preventing a Sprained Ankle
Preventing a sprained ankle and other ankle injuries can be done by following these steps:
Warming up and cooling down before and after exercise
Doing ankle muscle strengthening exercises
Improving balance
When a patient has suffered ankle injuries previously, a doctor will suggest that they tape or brace the ankle before playing sports or exercising.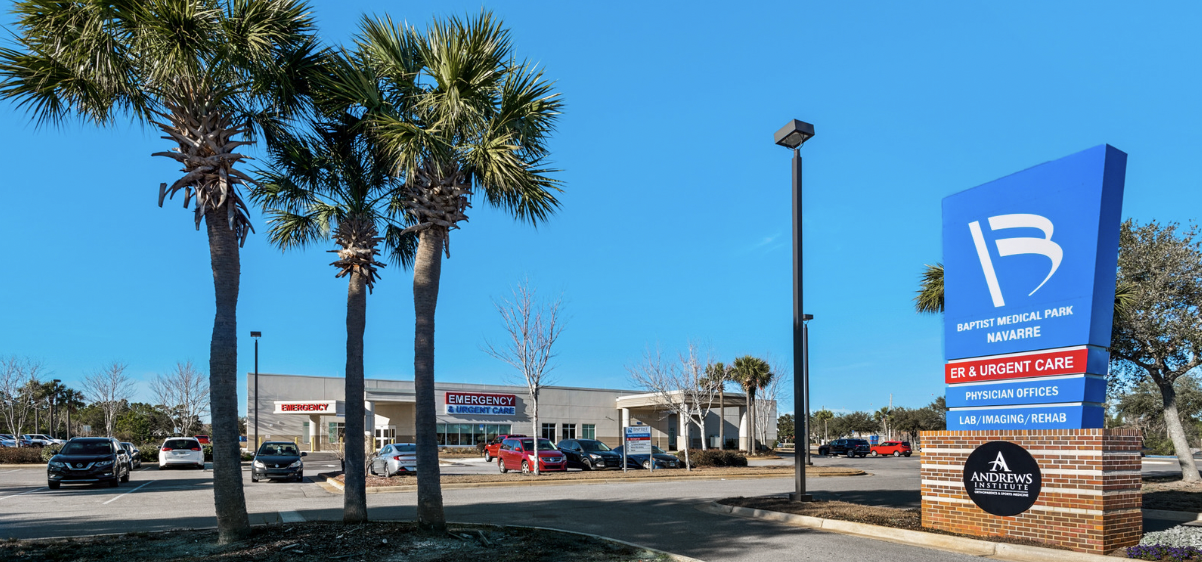 Visit Baptist Emergency Room & Urgent Care for Sprained Ankle Treatment
Baptist Emergency Room & Urgent Care's emergency room is open 24/7, and urgent care is available from 7 a.m. to 8 p.m. every day. Appointments are unnecessary - walk in, and our healthcare professionals are ready to help. Baptist Emergency Room & Urgent Care - Navarre is located at 8888 Navarre Pkwy., Navarre, FL 32566. Call the center at 850-750-5698.
Baptist Emergency Room & Urgent Care Navarre is comprised of board-certified ER-trained physicians and professionally trained ER nurses who deliver quality medical care. Our urgent care and emergency room in Navarre can effectively treat various medical conditions. From fever to fractures, allergies to abdominal pain, and colds to concussions, we have you covered with on-site labs, CT, X-rays, and ultrasound.